Categories
Categories
Brands
Brands
Wicked Lights ScanPro iC Gen 2 3-Color-In-1 (Green, Red, White) Night Hunting Headlamp Kit
Wicked Lights ScanPro iC Gen 2 3-Color-In-1 (Green, Red, White) Night Hunting Headlamp Kit
Product Description
SCANPRO® iC 3-Color-in-1 GEN 2 NIGHT HUNTING HEADLAMP KIT INCLUDES:
1 x Full Intensity Control ScanPro iC 3-Color-In-1 GEN 2 Headlamp with Patented Center Axis Rotary System which includes 3 center axis LED's in one light (1 x Green, 1 x Red, 1 x White) - see details below!
2 x Li-Ion 21700 5000mAh Rechargeable Batteries
1 x 2-Position Smart Charger with A/C & DC Charge Adapters
1 x Rubberized Halo Shield
1 x Premium Storage / Carry Case
Instruction Manual
3-Year Limited Warranty
​Manufacturer Part Number: W2069
Protected by US Patent 9,951,928, 10,208,924, & 11,028,998
Key ScanPro iC 3-N-1 GEN 2 features as compared to the Original ScanPro iC 3-N-1 Headlamp:
The ScanPro iC 3-N-1 GEN 2 offers enhanced better versatility by being able to operate on either the new powerful 21700 5,000 mah Li-Ion Rechargeable Batteries (included) or the older 18650 Li-Ion Rechargeable Batteries
The ScanPro iC 3-N-1 GEN 2 offers significantly longer run times by utilizing the new powerful 21700 5,000 mah Li-Ion Rechargeable Batteries (two) which provides an incredible best in class 10,000mAh of power reserve! Up to 40% longer run time!
The ScanPro iC 3-N-1 GEN 2 utilizes the all new "Wicked HD Green" Led Module which is 30% Brighter then its predecessor
Wicked Hunting Lights® is excited to announce the addition of the all new ScanPro iC 3-Color-In-1 GEN 2 full Intensity Control Night Hunting Headlamp featuring US Patented Center Axis Rotational 3-N-1 Selectable Color LED module with LED Position Detent Lock, Zoom/Focus, and Full Intensity Control. The new ScanPro iC 3-N-1 GEN 2 out shines the competition PERIOD! Unlike virtually all headlamps used for night hunting which are simply re-branded utility style headlamps, the Wicked Lights ScanPro iC 3-N-1 GEN 2 Headlamp is our second generation of 3-N-1 headlamps which are purpose designed and built for night hunting by night hunters.
The ScanPro iC 3-Color-In-1's revolutionary patented design is the FIRST EVER purpose built night hunting headlamp that combines all THREE KEY DESIGN FEATURES required in a professional quality dedicated scanning light.
​Key Design Feature 1:
The first key feature is the revolutionary, Patented 3-Color-In-1 Center Axis Rotational Color LED module with LED Position Detent Lock. In laymen's terms, you have the ability and convenience to select any of the 3 colors typically used in night hunting (for example Red, Green, or White) with just a slight twist of a knob and have the LED color of your choice lock in place on the center axis of the light body and in the center axis of the spherical lens.
​Why is the "center axis" so important you may wonder? First, if the LED is not centered in the center axis of the spherical lens, then the light will not reach its maximum potential in light output (as measured in LUX). Depending on how far off axis the LED is, it will also create an artifact or distortion in the light beam which can affect your field of view.
The new Center Axis rotary design allows for quick, easy, and instant color change while keeping each LED exactly centered in the headlamp, maximizing brightness and clarity for all three colors. No other headlamp on the market can do that. With the ScanPro iC 3-Color-In-1 GEN 2 Headlamp's effortless and quick LED color selection ability, you will gain the ability to tailor your LED color to the particular target species, terrain, or climatic conditions like many expert night hunters do.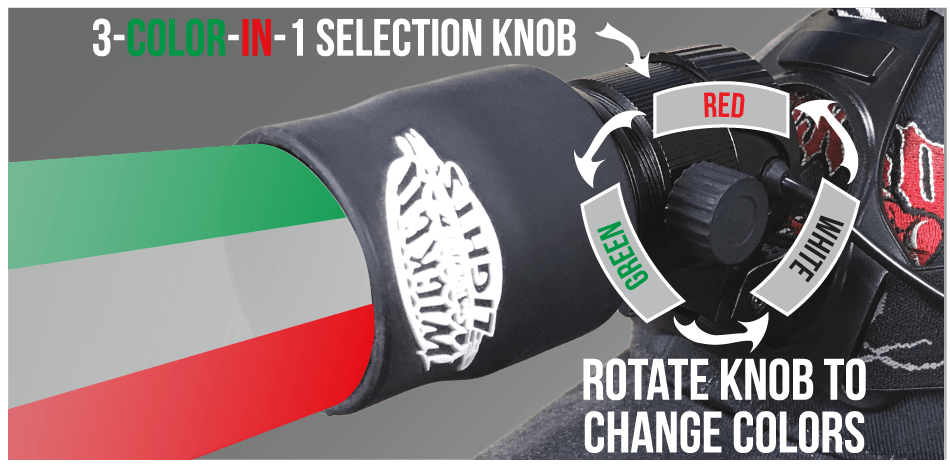 Key Design Feature 2:
Full Intensity Control--Why do I need Intensity Control? Well, the full intensity control gives the hunter the ability to use less light. Less light = less animals spooked. The intensity control knob on the ScanPro iC 3-Color-In-1GEN 2 Headlamp is designed to allow the hunter to set the intensity of the light BEFORE the light is turned on. This allows a hunter to condition the animal to the light by starting on a low power setting and gradually increasing the brightness of the headlamp until they have just enough light. Animals tend not to notice the subtle or gradual increase in brightness as much as suddenly being blasted by a bright beam of light. Also, in many situations the light does not need to be on full power to be able to identify the animal or see eye reflection. The Intensity Control rheostat knobs allow the hunter to increase the brightness until they have just enough light to make positive identification or until they feel they can see eye reflection good enough. This technique completely eliminates the worry of putting too much light on the animal because the hunter can stop increasing the brightness of the light at any time. By using the Intensity Control feature to start on low, then conditioning the animal with a gradual increase in brightness, and stopping when there is just enough light; the hunter will spook less animals, period!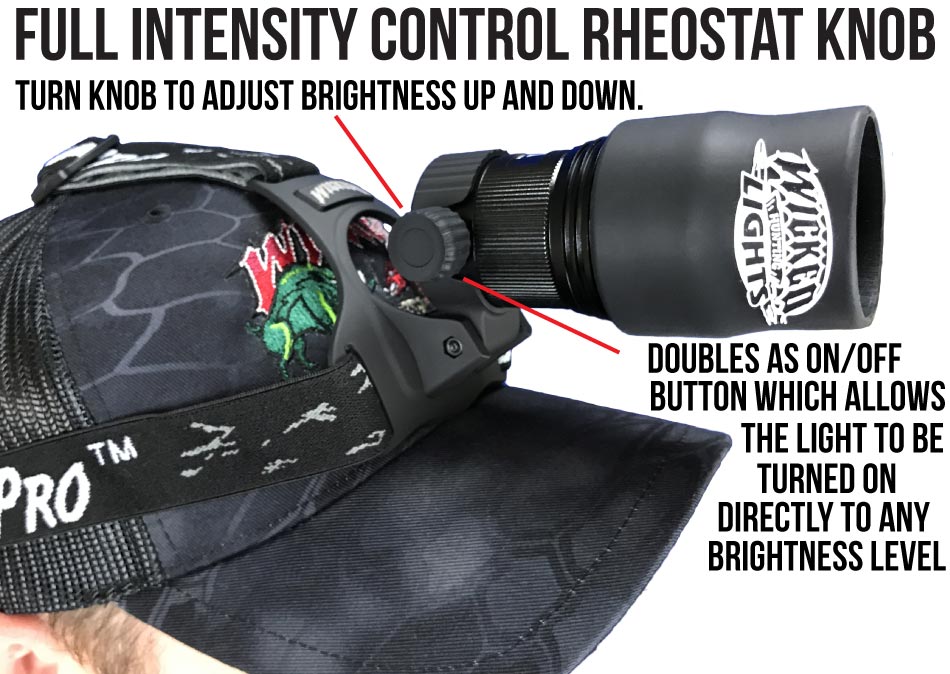 Key Design Feature 3:
​Zoom Focus Rotating Bezel. The ability to adjust the light beam characteristic from "flood" to fully focused "zoom" is critically important. Typically the way the light is being used will dictate how the beam is adjusted. If the light is being used as a "scanning" light, it will be "flooded" which will widen the beam and lower the intensity of the light and aid in covering more area while looking for "eye shine". Because the beam is "flooded" the benefit will be less potential to "burn the animals eyes" or shy the animal from the light. However, the disadvantage is the distance you will be able to see and positively identify the animal will be greatly reduced. Because of the adjustable zoom - focus you can experiment with beam size and intensity adjustment and find what works best for your particular situation and area. Additionally, many night hunters utilize two lights; one adjusted and set for scanning and looking for "eyes". Once "eye's" are detected the hunter will transition to their scope mounted light set to a higher intensity and "zoomed" for positive identification and shooting.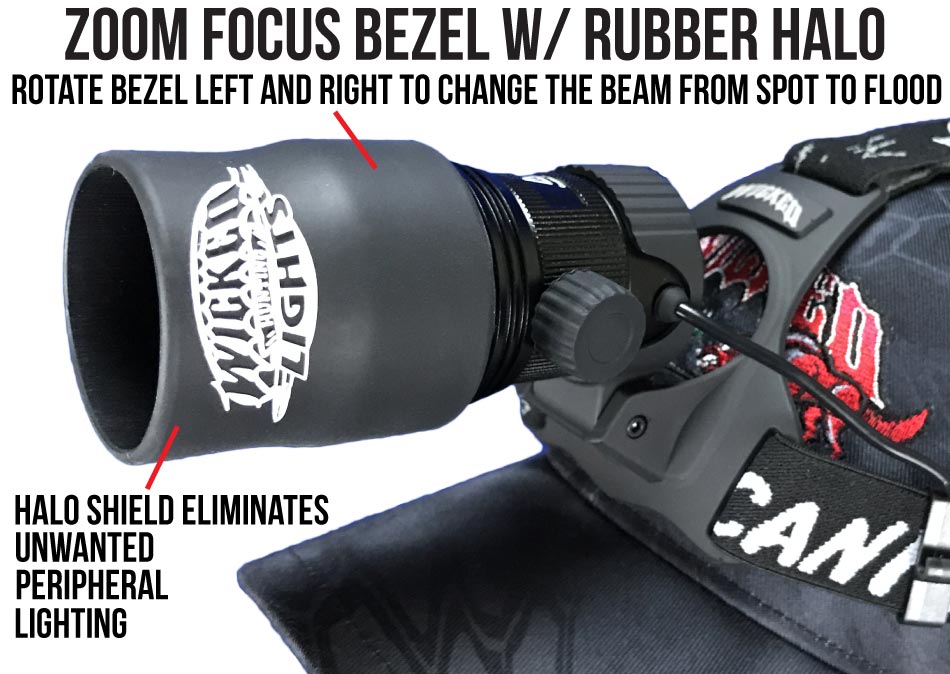 ScanPro iC GEN 2 3-color-in-1 specifications:
Powerful Intensity Control LED based light with 45mm diameter Zoom/Focus bezel design which allows the user to quickly adjust light beam diameter from spot to flood and control light intensity depending on the situation and the hunters preferences
Patented Center Axis 3-Color-In-1 Rotary LED design
Green, Red, and white LED's built into the headlamp
Instantly change colors without having to disassemble the headlamp
Maximizes brightness and clarity by keeping each color centered in the headlamp bezel
Special bezel is precision machined T6 Aircraft grade aluminum with type III hard anodization
Specially designed precision high magnification glass convex lens provides for extreme focus and or dispersion of light over a wide area
Full Intensity Control - allows the hunter adjust the brightness of the headlamp infinitely, giving them more control over the brightness and allowing them to spook less animals
Ability to turn headlamp "ON" at ANY desired power level, depending on your preference
Rubberized halo shield included to minimize peripheral light spill from haloing equipment or hunting partners
Comfortable wide adjustable cloth/elastic headband for fatigue free usage with or without a baseball style hat
Operates on two Lithium-Ion 21700 rechargeable batteries (included) or two Lithium-Ion 18650 rechargeable batteries (battery adaptor sleeves included)
Batteries and charger with AC & DC charge adapter included
Approximate Run Time (At Full Power) - up to 8 hours*
Identifiable Eye Reflection Range - Approximately 500* Yards
*Ambient light (moon phase), battery state of charge, LED color, environmental conditions, ect can and will affect ranges. Battery state of charge, type and condition of batteries all affect run time. Actual run time may vary.
Warranty Information
Product Reviews
Find Similar Products by Category
Customers also viewed